I am super excited to be working with
Writeshop
. I have found that my son is just like me when it comes to writing. It's difficult for him to think out of the box Being more creative when writing. Not only is he learning, but I am as well!:) Below is an interview that I had with Kim from
WriteShop
.
Be sure to keep reading, there is a fun announcement at the end! :)
1.
Kim, you homeschooled for 15 years. Can you share a little about your own homeschooling journey and family?
We began homeschooling in 1988 when our girls were entering 2nd and 5th grades. They were "traditional" learners in that they could work fairly independently, and most subjects—including reading and writing—came easily.
With our youngest, not so much. Ben struggled at every turn. He couldn't sit still. Skills such as reading and writing developed at an excruciatingly slow rate. I was so grateful to be homeschooling him, as he would surely have fallen through the cracks in the public system.
As a family, we did lots of unit studies, which met the girls' academic needs while providing plenty of kinesthetic and verbal outlets to meet Ben's learning style. Over time, and with much prayer, patience, and trial and error, he blossomed!
To our surprise, Ben became strongly academic in later high school, and is actually now working on a Ph.D. in England, where he lives with his wife. Our daughters are stay-at-home wives and moms, and they've blessed us with seven grandchildren.
2.
On your website, I found the quote, "Teaching writing has never been easier." Why do you think parents find it so hard to teach writing?
Teaching writing can be downright painful. Many parents feel insecure and unequipped. Honestly, most of us would rather have a root canal! We know it's important to teach our kids to write, but we're too busy wallowing in our own inadequacies.
Sometime we dream about how nice it would be just to plunk a workbook down if front of our kids and watch clear, organized stories and essays spill from their pens. But the truth is that writing needs to be taught. Yes, a handful of us have children who will figure it out all on their own, but
most need modeling, teaching, and feedback
to in order to learn and improve as writers.
So what do you do if you're that insecure parent? Find a curriculum that spells everything out—not just
what
to teach, but
how
. From brainstorming to final draft, you'll benefit from a program that clearly defines your role in the writing process. Look for features such as schedules, lesson plans, step-by-step instructions, editing tips, and writing samples. Tools like these build "mom-fidence"!
3.
If a terribly frustrated parent is reading this interview right now, what is your first piece of advice?
Beyond your own self-doubt, you may be struggling to help your kids overcome issues like writer's block, laziness, or perfectionism. Most students want to scribble out a paper and call it done. Then they want you to rave over it!
But should you give even the teeniest
hint
of a suggestion, they melt down and bitterly complain that you never like anything they write.
This causes tremendous frustration for you because you can't seem to figure out how to make this whole writing thing work. Your kid is a mess, and you feel like a failure.
First,
try isolating the source of your frustration
. Does your child complain that he can't think of what to write? Does he dawdle? Does he have learning challenges that require special attention? Is he unwilling to take correction or accept feedback?
And how about you?
Do you feel overwhelmed? Are you trying to teach many children at different levels? Are you disorganized and flying by the seat of your pants? Are you unpredictable in your editing and grading?
Alone or in combination, these factors can contribute to incredible stress, irritation, and discouragement.
You can
take small steps
toward reducing the level of frustration in your home. For starters, keep writing assignments short and specific. Use brainstorming worksheets and graphic organizers to help your child think his ideas through before beginning to write. And break the assignment into bite-sized chunks, giving mini deadlines along the way. These ideas work wonders with all ages and types of learners.
In addition, choose writing materials that are flexible enough to use with several children at once. Have a plan:
Know what you want to teach and when, and then schedule writing into your week. And use objective, lesson-specific editing and grading tools to help you evaluate your children's writing fairly. Small successes will usher frustration right out the door, leaving encouragement and accomplishment in its wake.
3. How can a parent build confidence in her reluctant writer?
It's a challenge to capture a fleeting thought and pin it to the paper. We think it sounds so easy to "just write what's in your head," but many children simply
aren't mature enough to put all the pieces together.
It's a big deal for a thought to form in your child's mind and travel all the way down his arm to the pencil. By the time he starts wondering how to spell this or punctuate that, his wonderful idea has been reduced to three dull words—or worse, vanished completely.
We underestimate how much help children need with writing. Shouldn't they be able to think of an idea on their own and then write about it?
In a perfect world, maybe.
But kids do have trouble coming up with topics. They forget what they want to say. Perfectionism can overwhelm them. Fear of making mistakes paralyzes them. Their hand hurts. That's just the way it is.
~~~~~~~~~~~~~~~~~~~~~~~~~~~~~~~~~~~~~~~~~~~~~~~~~~~~~~
WE ARE HAVING A PARTY AND YOU ARE INVITED! Join
@WriteShop
on
Tues. April 17th at 9:00 pm EST
for some prizes and fellowship! Follow the hashtag #WriteShopParty.
We're hosting a pre-party giveaway because
WE LOVE YOU!
You can win your choice of
WriteShop Primary Level Writing Curriculum A, B, or C ( e-book version)
.
a Rafflecopter giveaway
Mandatory
: click to enter
Other ways to enter:
- Leave a blog post comment:
What are your concerns or challenges in teaching writing?
- Tweet about this giveaway
- Follow WriteShop on Twitter
- Go to WriteShop and subscribe to their newsletter
- Visit Wonderfully Chaotic to read Shay's interview with WriteShop owner, Kim Kautzer.
If you could ask Kim a question, what would it be?
- Visit Spell Outloud and leave a comment answering the following question:
"If you could get any WriteShop product, what would it be and why?".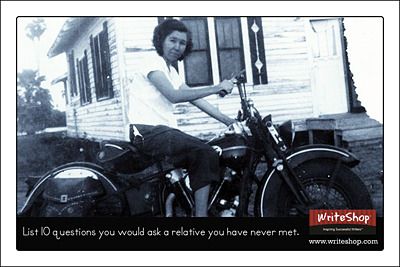 Need more writing ideas? Why not answer the question at the bottom of the picture? You can add more ideas by visiting
the other coordinators.
Visit the other #WriteShopParty coordinators party posts:
www.wonderfullychaotic.com
www.spelloutloud.com